Project Tongariro celebrated its 30th anniversary in 2014.  The organisation began with the idea of creating a pro-active community organisation working in partnership with Tongariro National Park staff.
Decades on, Project Tongariro is a key partner of the Department of Conservation and has developed significant strategic relationships with a range of local and national entities to achieve conservation goals.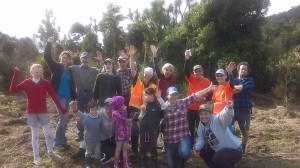 Project Tongariro provides an opportunity for individuals, groups, schools and businesses to be involved and help through funding, supporting or volunteering. It has helped fund, undertaken and completed projects from Ohakune to Taupō, creating a meaningful and long-lasting contribution to the region's conservation, economic and social structure.
Project Tongariro is involved pest control work around the Lake Rotopounamu -Pihanga area, restoration in Te Matapuna Wetlands, Greening Taupō, Kids Greening Taupō and protection and restoration of historic structures and events such as the summer programme and the Tussock Traverse Since 1991, Project Tongariro has awarded annual scholarships to more than 35 young researchers from New Zealand universities. This has enabled a wide range of valuable research to be undertaken in Tongariro National Park with far reaching application.
Recently Project Tongariro has established a named endowment fund with the Geyser Community Foundation. The Tongariro Memorial Fund is a living legacy to the four national park rangers and pilot Douglas McKenzie who tragically lost their lives in a helicopter crash in the park in December 1982 and is a unique, ongoing and dynamic memorial.
The fund is a special and powerful way in which individuals, whanau, schools and organisations can support the ongoing projects and activities of Project Tongariro for the long term. Income earned on the capital will be made available to Project Tongariro every year for investment in one of our four key areas of focus: biodiversity, education, history or recreation.
The annual income will enable continued development of projects and programmes in and around Tongariro National Park, the World Heritage Area and in the wider Taupo region.