In 1962 a population of giant wētā were discovered in remnant patches of tawa forest at Mahoenui in the southern King Country.
More wētā were found on farmland reverting to gorse in 1987. It's likely that the wētā were once present throughout the lowland forests of Waikato. Mahoenui giant wētā lay their eggs by pushing their ovipositor (egg laying tube) into the ground, They lay small groups of up to 100 eggs which develop in the ground and hatch only when the weather warms up, which can take up to 10 months.
Newly hatched wētā are called nymphs. It takes up to two years for the wētā to reach adulthood. The wētā range in size.
Females are larger than males, with female adults measuring up to 75 mm and adult males 50 mm. Females weigh up to 19 g (the same weight as a mouse) and males up to 12 g.
Mahoenui giant wētā are unique amongst the giant wētā species in having two different colour morphs.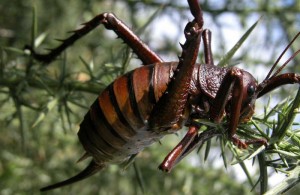 Although most tend to be a dark brown mahogany colour, a third of them are a lovely yellow, and one female was even discovered with mahogany for half of her body and the other side yellow.
Mahoenui giant wētā have been translocated to three sites:
Private land at Warrenheip near Cambridge
Mahurangi Island, off the Coromandel coast – 200 were transferred there and after four years they started showing signs of breeding
Sanctuary Mountain Maungatautari.