HELP Waihi was established in 1997 by people representing Forest and Bird (Waihi), Newmont Waihi Gold and local schools with funding from the Waikato Regional Council, Lotto Environment and Heritage Grant, Lilian Valder Ohinemuri Trust and support from Waihi Mitre 1.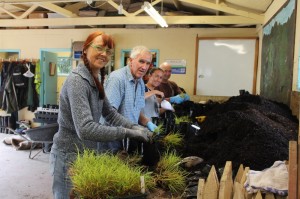 One of the first projects of HELP was to establish a nursery in the Waihi College Farm Unit to provide plants for its projects. The core aim of HELP is to improve the local natural environment, particularly along riverbanks.
HELP feels it's important to involve school pupils in their activities and plans planting day with local schools. The Society manages its own work team (along with suitable equipment) as well as undertaking other projects using volunteers.
One of the major projects of HELP is a three year project aimed at removing weeds along the banks of the stream and replant with natives. In April 2015 HELP signed an agreement with the Ministry for the Environment to proceed with the Mangatoetoe Project. The group intends to plant 20,000 plants beside the stream after clearing the banks of weeds.
HELP also manages planting areas along the Hauraki rail trail between the tunnel and Waihi and is undertaking the removal of Japanese walnut from the Ohinemuri Catchment. There are 15 volunteers and contract labour when required.